News & Events
SAGA Convention
Enjoy Disney World during your 2014 SAGA Sewcation in Orlando!
Have some fun with Mickey Mouse when you are in Orlando! Use these exclusive offers to visit Disney World!
http://www.mydisneymeetings.com/saga14/
This website will provide with access to exclusive After 2:00 PM and After 4:00 PM Disney tickets, as well as a 10% savings on all multi-day tickets. These tickets are not available at the Disney park ticket windows, but they are available via this complimentary Disney Ticket Website!
Raffle Baskets for the 2014 SAGA Convention in Orlando, FL
For those of you who have been to a SAGA Convention before, you all know the anticipation of winning one of the fantastic baskets that are raffled off during our aAnnual Banquet on Saturday evening, and this year will be no exception! If you or your chapter are planning on donating a basket but are not able to bring it with you, we have a member who has volunteered to be the contact point. You can ship the basket to Christine at her home and she will bring them to the hotel. YOu can ship them to:
Christine Klingsten
775 SE Evergreen Terrace
Port St. Lucie, Florida 34983

Questions? You can contact Christine at:
cmklingst@gmail.com
772-678-1538
Please ensure that members are aware that the last day for receiving packages will be Friday September 12, 2014.
Please do NOT mail raffle baskets directly to the hotel as there is typically a Receiving Charge that will be billed to the receiver.
SAGA Sewcation Travel Info - September 17-21, 2014
Stay at the beautiful Hyatt Regency Grand Cypress Hotel for the SAGA Sewcation!
Click on the link for Hotel and Shuttle information.
Getting Ready for your Sewcation in Orlando?
Find all of your class information in the 2014 Sewcation brochure:
Supplies
Pre-class preparation
Kit information
Just click on the link below!
Registration is OPEN for the 2014 SAGA Convention in Orlando, FL
Log in to your Member Area and the link will be on the right starting at 10 AM central time. Join us for the SAGA Sewcation in Orlando, September 17-21, 2014!
The 2014 SAGA Convention Brochure is now posted! Enjoy looking at the information on the wonderful classes, nationally known teachers, and the enticing events of the 2014 SAGA Convention on Orlando, FL.. 9 Debut Classes will be offered, the first time these classes will be taught! Information on these will be posted in early April, with plenty of time to make your choices!
If You would like to Register for Sewcation and the class with Kenneth King, but are not a SAGA member, please call 817-350-4883, our Convention Registrar will be happy to help you!

Registration starts May 1, 2014 - click here for a tutorial on how to register.
Click Here to make HOTEL RESERVATIONS!
How to Register for Convention
Download this step by step tutorial on how to register for the 2014 Convention.
Wee Care Contest
Announcing the SAGA Wee Care Contest with a Grand Prize of a Beautiful Hussif!
SAGA annouces a Wee CareTM Contest! Get your creative juices flowing and those needles stitching! Bring or mail your completed Wee CareTM item to the SAGA national convention in Orlando, Florida! The Grand Prize winner will receive this lovely Hussif stitched and generously donated by Mary Noll. For patterns, go to our Wee CareTM board on Pinterest!
Debut Classes / Table Top Clinics at the 2014 SAGA Convention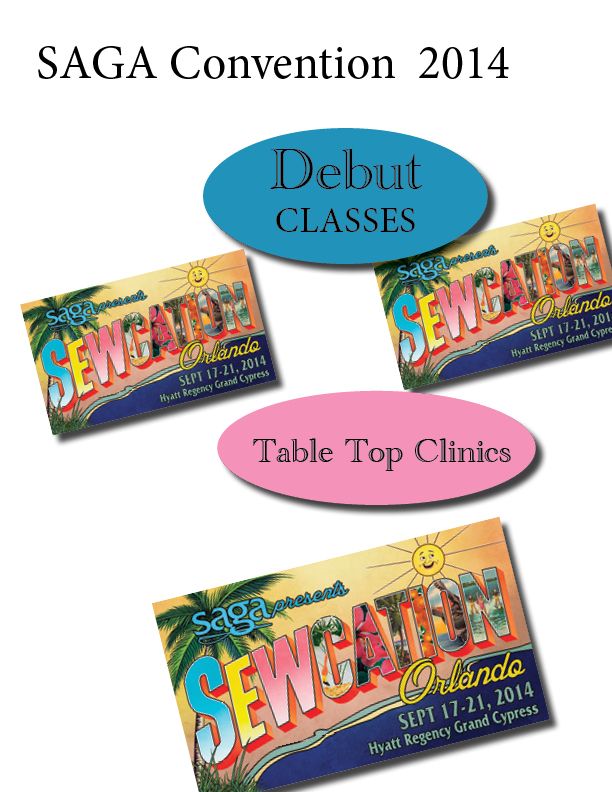 SAGA introduces the Debut Classes for the 2014 SAGA Convnetion in Orllando, FL. These classes are NEW and have not been previously taught. The Tale Top Clinic information is also included in the brochure!
Sewing Machine Rental
For Sewing Machine Rentals to use during Sewcation or Classics With A Twist, please contact Melody or Steve Hicks at the Bernina Sewing Center of Lake Mary, Florida at 407-805-9300. You will receive a basic Janome machine. The cost is $30 per day or $150 per week. Please make your reservations by September 1st!
Orlando, Florida to host 2014 SAGA convention
Mark your calendars! Convention is September 17-21, 2014
The Hyatt Grand Cypress will be the site for SAGA's 35th annual convention, September 17-21. Look for information on the classes, special events, and opportunities here on the website beginning in November!