News & Events
SAGA Convention
Enjoy Disney World during your 2014 SAGA Sewcation in Orlando!
Have some fun with Mickey Mouse when you are in Orlando! Use these exclusive offers to visit Disney World!
http://www.mydisneymeetings.com/saga14/
This website will provide with access to exclusive After 2:00 PM and After 4:00 PM Disney tickets, as well as a 10% savings on all multi-day tickets. These tickets are not available at the Disney park ticket windows, but they are available via this complimentary Disney Ticket Website!
SAGA Sewcation Travel Info - September 17-21, 2014
Stay at the beautiful Hyatt Regency Grand Cypress Hotel for the SAGA Sewcation!
Click on the link for Hotel and Shuttle information.
Debut Classes / Table Top Clinics at the 2014 SAGA Convention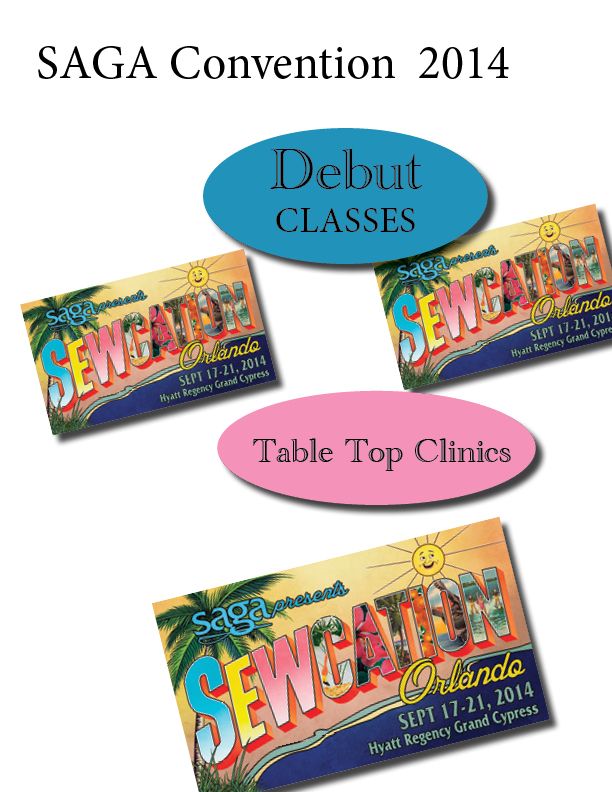 SAGA introduces the Debut Classes for the 2014 SAGA Convnetion in Orllando, FL. These classes are NEW and have not been previously taught. The Tale Top Clinic information is also included in the brochure!
2014 SAGA Convention in Orlando, FL
Join us for the SAGA Sewcation in Orlando, September 17-21, 2014!
The 2014 SAGA Convention Brochure is now posted! Enjoy looking at the information on the wonderful classes, nationally known teachers, and the enticing events of the 2014 SAGA Convention on Orlando, FL.. 9 Debut Classes will be offered, the first time these classes will be taught! Information on these will be posted in early April, with plenty of time to make your choices!
See you in Orlando at the Sewcation!

Registration starts May 1, 2014
How to Register for Convention
Orlando, Florida to host 2014 SAGA convention
Mark your calendars! Convention is September 17-21, 2014
The Hyatt Grand Cypress will be the site for SAGA's 35th annual convention, September 17-21. Look for information on the classes, special events, and opportunities here on the website beginning in November!